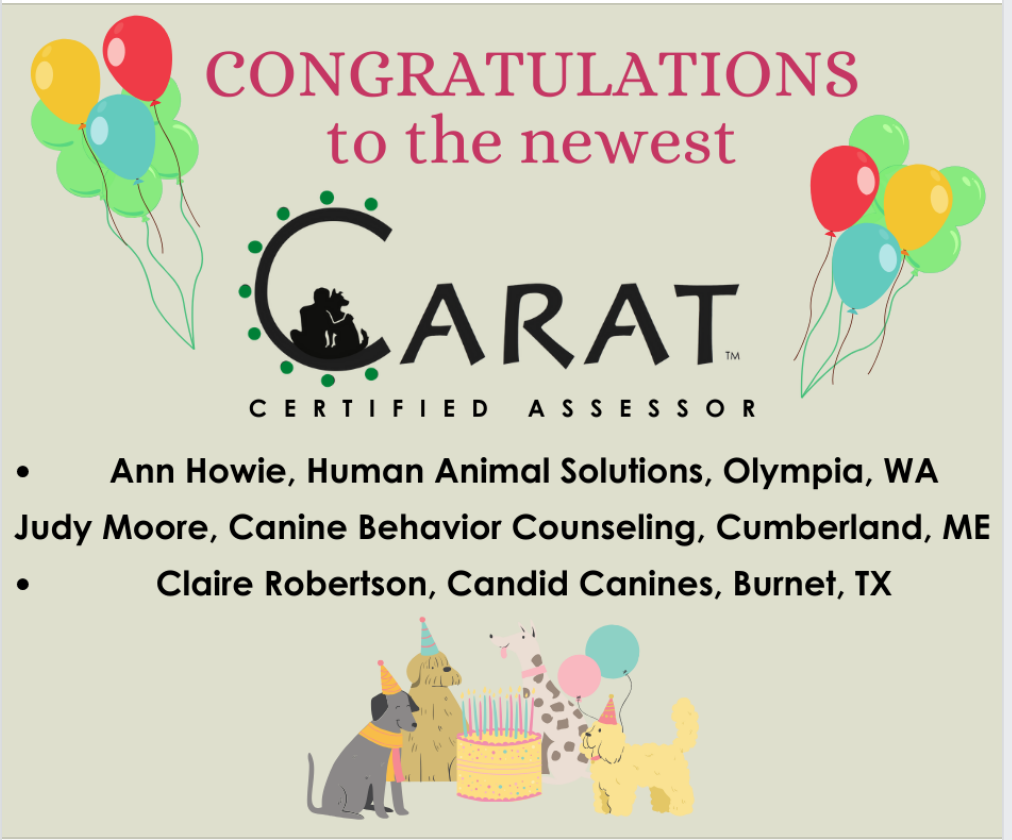 Suzanne Clothier I am very pleased to announce the first Certified CARAT Assessors (CCA): Judy Moore, Canine Behavior Counseling, Cumberland, ME
Congratulations to these skilled and knowledgeable trainers who put in a lot of hard to work to learn this temperament assessment tool, CARAT. While the basic structure of CARAT is easily grasped, the in-depth observation skills and understanding of canine behavior and body language that CARAT requires is considerable. These CARATeers have worked very hard over several years to achieve their certification.

Thoroughly Reviewed's TOP 50 DOG TRAINING BLOGGERS
August 2016
Judy is honored to be included in Thoroughly Reviewed's Top 50 Dog Training Bloggers! Thoroughly Reviewed has done all of the hard work for you! This blog listing features many great names in the dog training industry and touches on a wide array of dog training topics, such as effective dog/human communication, clicker training, behavior issues, and many more.
To view the entire list, please visit: Top 50 Dog Training Bloggers on Thoroughly Reviewed
Interview with Rich Brooks of Flyte New Media
Summer 2016
Digital marketing is crucial to any business in today's competitive market. Canine Behavior Counseling has provided a great case study of what minor adjustments on a business website can do to improve services and increase sales. Judy spoke with Rich Brooks of Flyte New Media last month to go over some of the marketing strategies she has recently implemented on her website and how those strategies have impacted the way she interacts with and services clients. To see the full interview, please visit Flyte New Media's post How Real Entrepreneurs Crush Digital Marketing.

5 Tips for Getting Your Dog to Come When Called
Spring 2016
Judy recently wrote an article for Fido Magazine on tips for working your dog's
recall. The article focuses on training reliably, as well as positively, for maximum success!
Fido Magazine published quarterly and is dedicated to getting pertinent dog-related information into the hands of responsible dog owners throughout the state of Maine. Click here to find out where you can pick up your copy of the Spring 2016 edition of the publication!

Animal Assisted Therapy
Guests: Judy Moore, Associate Certified Dog Behavior Consultant and Susan E. Grant, OTR/L, HPCS, Director of Therapy and Adaptive Programs.
Maine Calling is an interactive radio program hosted by MPBN News Director Keith Shortall and Public Affairs Host Jennifer Rooks and produced by Jonathan Smith.
Airing live Monday through Thursday from 12:00 to 1:00 pm and anytime online, the show brings interesting conversations on a wide variety of topics to the people of Maine.
Click below, then click the blue arrow to listen and learn more about Maine's Pet therapy Programs!
Healing Vets and Saving Pets
May 2015 Organizational Change
We are thrilled to have Judy Moore and Suzy Olson as a national trainers! Initially, it will be vetting and approving (or not approving) trainers and then guiding them through at least the first match. Clarissa Black, our founder is also available for guiding trainers through matches.
At Pets for Vets, we believe our country owes military veterans a debt of gratitude. Our soldiers have been brave but many of them have returned with physical and emotional injuries that have made it difficult to transition back to civilian life. Some estimates state that as many as 20% of returning military veterans suffer from Post-Traumatic Stress Disorder (PTSD).
Our goal is to help heal the emotional wounds of military veterans by pairing them with a shelter animal that is specially selected to match his or her personality. Professional animal trainers rehabilitate the animals and teach them good manners to fit into the veteran's lifestyle. Training can also include desensitization to wheel chairs or crutches as well as recognizing panic or anxiety disorder behaviors.
It's win-win.
Needy shelter animals receive a second chance at life while giving our returning soldiers a second chance at health and happiness. The bonds of friendship formed between man and animal have the power to ease the suffering of our troops when they return from overseas.
April 2015
The Pets for Vets segment will be one of the segments included in a weekly show called "Your Magazine" and will air on Time Warner Cable Channel 9 this Thursday, April 2 and Sunday, April 5 at 7:30pm. It will continue to air for another month on channel 9 at various times in rotation with three other Your Magazine episodes.
If you'd like to see the segment online, here is a temporary link to view the Pets for Vets segment featuring Judy Moore trainer along with Military Veterans Bob Charest, Alan Golick and Jesse Camp and their companion dogs.
www.twctv.net/petsforvets.html
March 2015
Train
the Trainers, Judy returned to Operation Kindness, a large shelter in Dallas Texas to help the Dallas Pets For Vets Chapter understand Canine Body Language. The Assess A Pet program by Sue Sternberg is used to help identify potential dogs for the Pets For Vets Program. Best of luck to all the trainers in the Dallas Chapter!
February 2015, Pets For Vets has approved Judy Rapp Moore to be their Regional Head Trainer. Educating and vetting new trainers for the Pets For Vets Program, as we continue to grow!
January 22, 2015
January, 2015
Interviewed b
y Derek Volk on Box Talk Radio, Judy Moore educates us on how to train your pet dog in a positive way, while maintaining a strong relationship. If you missed the interview aired on 1/10/2015 you can listen and learn using this link:
Enjoy!
November 2013
Judy is approved to be the first Pets For Vets Trainer in the state of Maine!